An orb found in a vast expanse of blue sky.
After you have collected the orb, walk a little to the right and you will find a young boy sitting by himself. Talking to him will only make him shake his head.
The music that plays here is bgm042.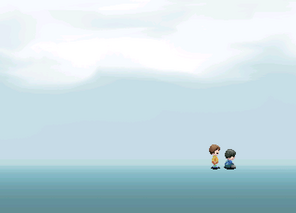 Directions:
Edit
Sandy Swamp World > Box Maze > Green Ruins > here
Connections
Edit
Ad blocker interference detected!
Wikia is a free-to-use site that makes money from advertising. We have a modified experience for viewers using ad blockers

Wikia is not accessible if you've made further modifications. Remove the custom ad blocker rule(s) and the page will load as expected.