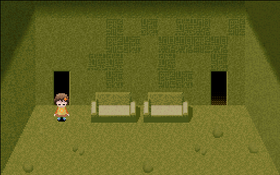 Found by entering a large green building in Sandy Swamp World, the Box Maze serves as a hub to several key areas of the game.
In ver 0.030, Box maze has two separated parts.
Building A is through the green cube (not an L shape) with two thinner blocks on top. It has connections with:
Music room
Monochrome Beach portal
Glitter Matrix World
Building B is found in the larger, L-shaped block and has connections with:
Green Ruins
Jellyfish Orb
Book Room
Connections
Edit
Soundtracks
Edit
Box Maze's Soundtrack is BGM027
The Music that plays in Book Room is BGM025
BGM030 plays in Music Room
Ad blocker interference detected!
Wikia is a free-to-use site that makes money from advertising. We have a modified experience for viewers using ad blockers

Wikia is not accessible if you've made further modifications. Remove the custom ad blocker rule(s) and the page will load as expected.