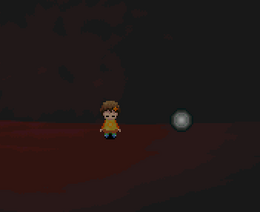 One of the 12
orbs
, which are required to unlock the ending. The orb is located on a reddish ground. The player can see the full fetus image by pushing up the arrow key. Fetus is large and its eye is full of little balls, resembling a marble.
Soundtracks
Edit
The music here is BGM040.
Directions
Edit
Nexus > Pink Block World > Eye building > Tile Maze A > Tile Maze B> Here
Connections
Edit
Ad blocker interference detected!
Wikia is a free-to-use site that makes money from advertising. We have a modified experience for viewers using ad blockers

Wikia is not accessible if you've made further modifications. Remove the custom ad blocker rule(s) and the page will load as expected.